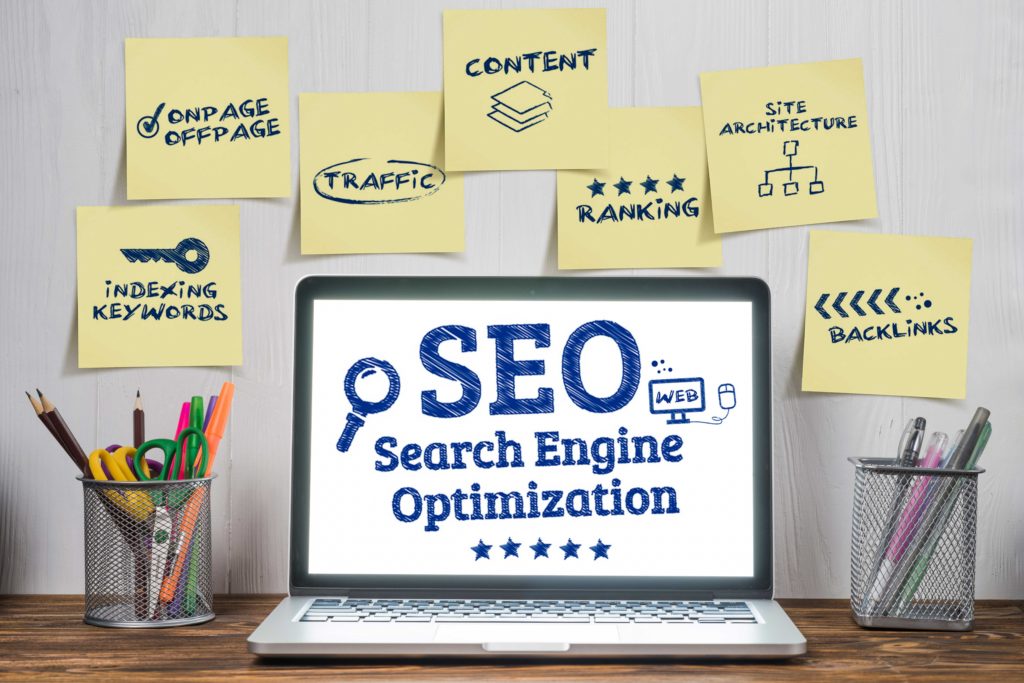 Why is Search Engine Optimization Singapore Important? In order to run a successful business in this day and age. Digital marketing such as "SEO" plays an important role for almost all businesses. The reason why Digital Marketing is so important is because your success does not solely depend on your product. It is also about how you sell it and how many people actually know about your product. Even with a great product, without digital marketing, little to few would know your product even exists.

Coming to 2020, where the majority of consumers or your potential customers will search for products / services online. Which comes to my point about Search Engine Optimization in Singapore or known as SEO for short.

In summary, SEO is basically how you could get your webpage to be featured on the first page of google search results; when someone searches for your products or services. Even if you have a compelling website, spending thousands of dollars on building it up. If it doesn't rank on google search engine, nobody would be able to find your website, nor hear about your company or product.

How often would you go to the second page of google to find something? This is why the top 5 results in google's first page dominates a huge majority of the clicks. SEO will help your company's website to get to the first page of Google search engine results page or known as (SERP). This will boost your business tremendously.

So, what exactly is SEO? How does it work? How effective is Search Engine Optimization for Singapore start-ups and SMEs?
SEARCH ENGINE OPTIMIZATION IN SINGAPORE

Search Engine Optimization in Singapore is usually used by businesses that runs their own website. SEO is the process for your website to be ranked or seen on the first page of a search engine when a person searches for a specific word or keyword.

Every major search engine, such as Google, Bing, and Yahoo, has search engine results pages (SERPS). Where it shows a list of web pages, videos, or local listings. These search engines will rank your website depending on the quality of the technical aspects and content of the site. It checks things such as the loading time of your webpage. For Example: broken links, mobile-friendliness, content quality, and relevancy to the keywords just to name a few. If your website is "good" in Google's eyes; it'll help your business' target customers find your site easily as google will be ranking it higher in the result page.

The keyword is usually the information your target audience is searching for. For example, you are the owner of a coffee shop. If your customer searched for "local coffee shops" online. The search engine will show you the results of the top coffee shops. SEO helps to plant the keyword ("coffee shop") in your website content so that your page will show on the results page.

This is one of the many reasons that start-ups and SMEs need to use Search Engine Optimization in Singapore.
IMPORTANCE OF SEARCH ENGINE OPTIMIZATION IN SINGAPORE

SEO Helps to Promote Brand Awareness

Why is Search Engine Optimization Singapore Important for Brand Awareness? One of the main platforms used for brand awareness is a website. Though like any other small-scale enterprise, the most common visitors of this site are you and your staff- and maybe a few patrons. For your business to grow, your website needs visibility. Visibility is having your website found on the internet when your target customer is searching for your related products and services.

Like mentioned earlier, SEO helps to make it easier for your website to rank higher in search engines. It does so by improving the site's backlinks, content quality, and page speed; just to name a few. It is important to fix/optimize these factors. Google determines how "good" your website is based on those factors.

The website's visibility at the top of the search engine result page is important. As statistics reveals, most internet users only browse the sites listed on the first page of the search engine, and ignore further pages. In order to get more traffic to your website, SEO is a very important factor to weigh in.

SEO Results in Higher Sales and Web Traffic

The visibility of your website greatly affects its traffic and sales, imagine your webpage is ranked at page 57 in Google. Nobody in their right mind will be willing to go that far to find information. All of us want instant results and by getting your website to the first page in Google when someone searches for a product or services that you have. You'll be dominating your market and pushing your competitors behind you.

Higher chances to be seen by more people > Higher chances of people liking your product or services and buying them. This is another reason why SEO is so important especially for SMEs and Startups on their starting stages due to the lack of Brand Awareness from the beginning.

Search Engine Optimization in Singapore will benefit all businesses in the long run. As Google takes time to "crawl" through website (3-6months) to rank them in the search engines. However, if time is a factor, you can always use "Search Engine Marketing" or SEM in short.
SEM & SEO can work together, major brands with high budgets will utilize both SEO & SEM. This method will get more traffic to their website and stand out more from their competitors on the first page of google as well. This will ensure that people will be more likely to click on their SEO optimized website or their "SEM" ads on the first page of Google.

Another reason why Search Engine Optimization in Singapore is important for driving sales is because the consumers have something in mind when they search for something online, be it for information about certain products or they have already made up their mind to buy something.

For example: Your website consists of a "keyword" – Cheap Sports Shoes, Singapore.

If a consumer were to search for keywords related to your site such as "Where to buy cheap sport shoes in Singapore" You will be able to see that the target audience has the intention to buy sport shoes and they are looking for some options online that fits their budget in the country of Singapore.

If your website appears on the first page of google when they search this, chances are that they might look into your website and they might find something that they like in there. This is how you will be able to beat your competitors and stand out from the rest.

SEO Helps You to Understand Your Audience

Start-up businesses usually don't have much information about their audiences. If the website aims to satisfy the user's purpose of visiting the page, how can small and medium enterprises gather data regarding their customers' needs, to create content for them? The answer is easy, to utilize SEO.

Keyword research is one of the most important features of SEO that you can utilize to know your audience. Keyword research involves identifying popular words and phrases people enter into the search engines. It helps you get an insight into what your potential customers are looking for online. There is an opportunity for you to know their needs, the solutions they are looking for, and the mediums they prefer (videos or blogs) to get information.

Start-ups and SMEs can also utilize Google Analytics for their website. It allows you to review the age, gender and geographical location of users visiting your page. Furthermore, you can also look at how different groups react to your website. Then, you can make the necessary changes to the page and tailor them to the needs of your customers.

SEO Establishes Brand Value and Trust

For a customer to buy your product, he or she needs to build a level of trust in your brand. As established, Search Engine Optimization Singapore helps start-ups in building a good image with potential customers. Internet users tend to trust brands that show up at the top of search engine result pages (SERPs); a higher ranking lends a brand more credibility. If the user sees your website consistently at the top of the search pages, it will develop a great level of trust in your brand. Trust and credibility are vital, especially for businesses that rely on digital channels for conversion.

Again, a good SEO strategy does not only result in a high ranking but also create an accessible website with quality content, which further improves the value of your brand.

SEO is Long-Term

Once your business has established a level of trust with your customers, it is important to sustain that. The good thing about SEO is that it is a long-term solution for marketing. It helps your business to consistently create quality content that suits your users' needs. According to McGovern, over time, as your content and website becomes more popular, the SEO of your website will be stronger; other sources will link your content and Google will reward the page for providing quality information, instead of spam.

While paid advertisements such as SEM or Search Engine Marketing are a great way to boost your products online, it spans for a limited period of time and it's usually costly to maintain depending on your keywords. Once you stop running your paid advertisements, your web traffic will drop significantly. By slowly improving your SEO ranking will benefit your brand in the long run, because the number of visitors to your website will be consistent, even better, it will grow eventually.

SEO Keeps Business Up-to-Date

However, it is important to keep in mind that Search Engine Optimization for Singapore start-ups and SMEs is not a one-time process. It needs constant upkeep. Google, as well as other search engines, constantly updates its rules regarding its operation, which can affect your business online. SEO keeps you up-to-date with the most recent marketing trends; so you can make necessary changes to your website to keep it relevant for your users by updating your content from time to time.

SEO is Free

Marketing and getting your name out there can cost a lot of money, even for bigger companies. It is a common struggle for start-ups and SMEs to have brand awareness amongst potential customers. The good thing- if not the best thing- about Search Engine Optimization in Singapore is that it is mostly free. Most of the tools necessary to use, such as Google Analytics and Google Search Console, are also readily available. All you need for SEO to work is time; a higher ranking and heavier user traffic usually takes time to happen. Though, for the money you have saved up, SEO yields great results.

For start-up businesses and small and medium-sized enterprises who are looking to get their brand name out there, look no further than SEO. It is a low investment that can generate great results for your business.

SEO does not only help online business ventures. If you run a store (café, restaurant, or boutique), SEO can also help in attracting visitors. A survey revealed that 82% of internet users run 'near me' searches. If your store's name appears at the top of the result page, it can gain potential customers to flock to your location. By updating your Google My Business profile, it will help your store's visibility online.

Another great thing about it is that learning SEO is not rocket science. There are many online sources, such as this one, that helps you understand how Search Engine Optimization works. It is possible to learn and do it yourself, especially for smaller enterprises that cannot afford an in-house marketing team. However, you can outsource SEO firms at affordable prices, if you think that SEO is not your cup of tea.

So if you are planning or already in the early stages of your business, always keep your SEO strategy in mind to ensure your visibility online. To learn more about SEO, you can visit the Sevenwolves website.