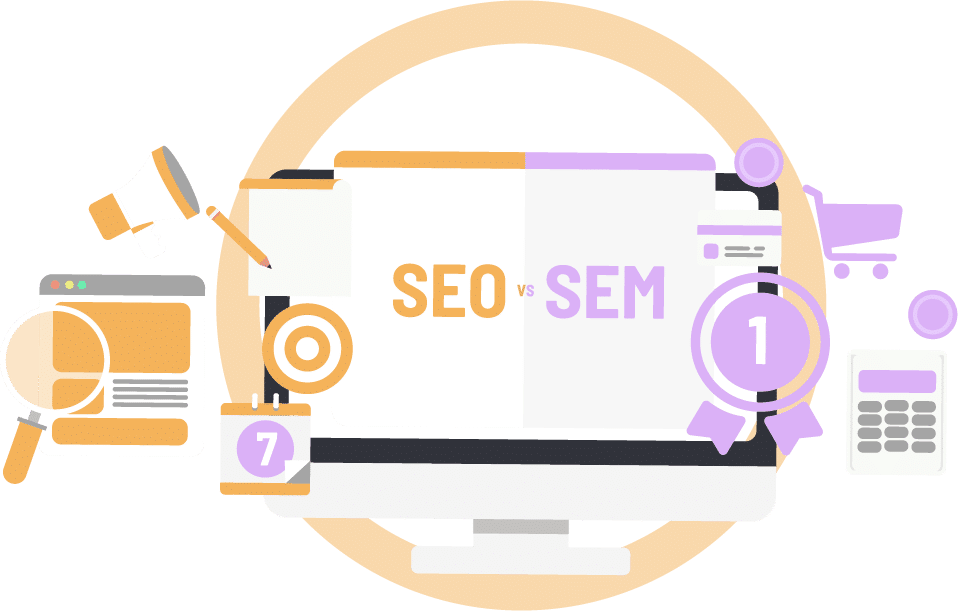 Search Engine Optimization (SEO) and Search Engine Marketing (SEM) are two of the most popular marketing trends in Singapore. Both can help in expanding your business' online presence for potential customers. However, many use the two trends interchangeably. By not knowing the difference between the two terms, you run the risk of not communicating with the online community.
How do you choose the perfect strategy for your business venture? To help you, here is a guide on SEO and SEM, their similarities and differences.
What is Search Engine Optimization (SEO) in Singapore?
Search Engine Optimization (SEO) in Singapore are digital marketing techniques used by ventures to gain organic traffic to their website. Here, you are making your website as user-friendly as possible. By doing so, search engines like Google, Bing, and Yahoo will recognize that you are a site that provides valuable information to your visitors. As a result, your ranking in the search engine results page will be higher.
Every major search engine has search engine results pages (SERPs), showing a list of web pages or local listings, related to a specific keyword. It checks various aspects of your website, such as the loading time of your webpage, broken links, mobile-friendliness, content quality, and relevancy to the keywords. The higher ranking you have, the more chances of target customers visiting your sites.
There are hundreds of different techniques you can use to optimize your website for search rankings. There are three common ways to do so:
On-page SEO
Here, each page of your website is optimized to target a specific keyword. Strategies such as keyword research, content creation, and keyword optimization are included here. On-page SEO helps search engines understand the content in your website, giving it a higher ranking.
Technical SEO
This method focuses on the website elements concerned with backend structure and foundation, instead of content. Site speed, mobile-friendliness, indexing, site architecture, structured data, and security are some things that are evaluated in this process.
Off-page SEO
Through this process, you are establishing your website as a valuable information source by connecting it to other high-quality websites. If other pages include a link to your website, it shows search engines that your page is trustworthy and reliable. This makes your website more worthy of a higher search ranking. Tactics like acquiring high-quality backlinks from other websites and managing local listings and directory profiles are done for optimum results.
A reliable SEO plan does not include only one of the strategies above; instead, it combines all three techniques to come up with the best results.
SEO is not a one-time task. It would help if you continued to optimize and improve your website to maintain your ranking. Note that many of your competitors are trying to steal your spot in search rankings. Search engines also change their search algorithm occasionally, meaning your SEO plan today may not work after a while. So, make sure to update and extend your SEO plan accordingly.
What is Search Engine Marketing (SEM) in Singapore?
Search Engine Marketing (SEM) in Singapore makes your website visible in search engine results pages (SERPs) through paid advertising. Professionals also refer to SEM as paid search or pay-per-click (PPC) marketing. This method includes setting up and optimizing your online advertisements and setting a budget that pays for the placement of your ads in search engines.
For SEM, Google Ads is most commonly used. Here, you can create ad campaigns that target the best keyword for the industry, product, or service you are providing. When you search for a specific keyword, you may notice custom ads at the top or bottom of the SERPs; those are paid ads. Each time someone clicks on your advertisements, you are being charged by the search engine.
Similarities and Differences Between SEO and SEM in Singapore
By now, you have a clearer understanding of Search Engine Optimization (SEO) and Search Engine Marketing (SEM) in Singapore. How could you choose one over the other?
Here are some things that SEO and SEM have in common:
Both allow your website to appear in a prominent position in the search engine results pages (SERPs). So when a potential customer types in a keyword related to your business or product, your page will show up.
Both are designed to increase your website traffic. It employs their own tactics to get more users to click into your page.
Both require your knowledge of your audience, their needs, and what they search. Then create content that provides solutions related to your business.
Both utilize and target keywords that your target audience searches, where you can base your website content.
Both require continual testing, monitoring, and optimization to increase and improve website performance.
Now here are some differences between the two:
SEM searches have "Ad" designated places in search engine results. SEM is usually marked as an ad and commonly placed on top or bottom of the first result page. On the other hand, SEO is not marked and is ranked depending on the search engines evaluation of their website.
SEM results are paid placements. Every time someone clicks into your website, you are charged. SEO doesn't charge you when a user clicks on a result.
SEM allows you to specify the audience you want your ad to reach, based on age, location, income, habits, and more. SEO does not give you the option to do so.
SEM shows immediate results, where your ad campaign can easily be seen in SERPs right away. On the other hand, SEO requires time before your website can rank on search engines. Though, results from SEO are more long-lasting and even more valuable over time. SEM only runs during the period you paid.
Which one is Better for Your Business?
Ideally, it is best to have both SEO and SEM simultaneously working for your business. SEM will provide initial traffic to your site, while you're working on a long term optimized page through SEO. However, not all ventures afford to run both marketing strategies.
If you are choosing between the two, here are some things you need to consider:
Competition
Research on your competitors' online marketing strategies, their ranking on search engines, and the keywords they often use. By doing so, you can find out areas where you can't compete with them in both paid and organic search. More importantly, you can fill the gaps where your competition lacks.
Industry
Some industries do not have a vast number of people searching for them online. Know the way to reach your audience best. If you are still unsure about marketing online, you may opt for SEM. SEO is more fitting for a long-term plan.
Customer Buying Cycle
If people commonly search for your type of product or service, your customers probably have a short buying cycle. This means they know what they want, they search it, and buy it immediately. For this, you may benefit from SEM. However, if your customers usually take time to purchase products, SEM may not work as it only runs for a limited time.
Age of Business
For start-up ventures, it is best to use SEM paid ads for initial audience traffic to your site. Still, developing an SEO plan for long-term results will be beneficial for your business.
Website Status
When creating both an SEM and SEO plan, consider the current status of your website. Check the strategies that are already working for you as well as areas you can improve on.
Seven Wolves Marketing
Managing SEO and SEM on your own is tough. Instead of planning them yourself, you can hire a team of digital marketing experts to do it for you. Seven Wolves has a team of digital marketing gurus that can help you create an SEO and SEM plan for your business in Singapore, as well as other digital marketing services. The digital marketing landscape is continuously changing. Having people, whose sole responsibility is to map-out that landscape for you, will assist your venture moving forward.

Hiring people to do SEO and SEM for your business in Singapore will save you money in the long term because it keeps you from the trial and error stage of website optimization. It gives you time to take better care of the other aspects of your business. We do it right because digital marketing is our business, and our business involves growing yours to new heights. Because it is our business, our focus is in digital marketing alone, to thrive in its ever-changing landscape, and to do it better than anyone else. Find out more about our plans and pricing.